Hubbell's campus programs provide unique opportunities to gain challenging, real-world experience. From co-ops to summer internships to our multi-year rotation program, our campus program openings are an opportunity for you to work collaboratively in a professional environment, network and build relationships, and experience an exceptional workplace where you can bring your talent to make a difference. Our programs cross every career area at Hubbell and give you the chance to move the skills you've built in the classroom to the world.
Explore Openings

Summer Interships
Paid summer internships are available for students to gain invaluable experiences through hands-on assignments over 12-weeks in the summer. We offer internships across more than 20 of our national and global locations.

Hubbell Rotation Program (HRP)
Recent college graduates can move across different assignments, businesses, geographic locations and disciplines over a three-year time frame with rotation lengths of 11 months. Opportunities offered include but are not limited to Engineering, Operations, Finance, Human Resources, Information Technology, and Sales & Marketing.

Co-ops
Some curriculum require co-op experience in order to graduate. Paid co-op opportunities are available for students looking for short-or long-term assignments related to their assigned curriculum.

Full-time
For recent graduate or plan to graduate in a few months. Check out our open positions.
Campus Program Testimonials
Explore a collaborative culture of inclusion, growth, and originality, supported by resources that make a difference in your life.

My internship at Hubbell allowed me to gain real work experience and network with many different people within the organization. Ultimately it helped me understand what I want to do in my career.

My Hubbell internship was an enjoyable experience that proved to be a valuable stepping stone into my career. The experience I gained as an intern equipped me with the knowledge and ability to continue to be successful as a professional engineer today.

The Rotation Program has been very influential to my professional life. This program helped me make the transition from collegiate to professional seamlessly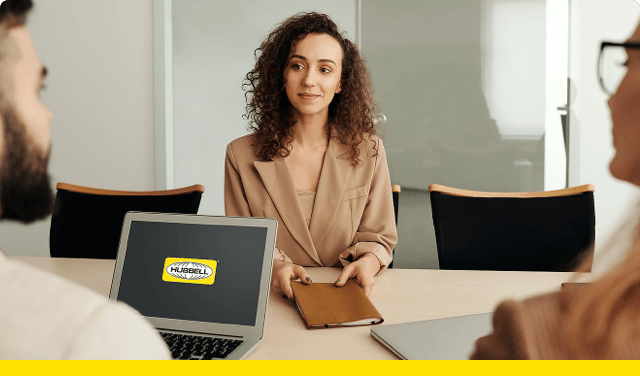 Campus Hiring Events
Our Hubbell Campus Programs team participates in information and recruitment events on college and university campuses throughout the United States.
Explore Events
Results 1 – 25 of 25
Page 1 of 1
Search results for "". Page 1 of 1, Results 1 to 25 of 25
Title
Location
Work Arrangement
Date
Results 1 – 25 of 25
Page 1 of 1

Get Discovered
Join our Talent Community to stay connected with Hubbell. Your information will be shared with our Talent Acquisition team for future roles that may become available.
Join our Talent Network

Jobs By Location
Hubbell has a broad range of locations -- across the country and around the world. Click to explore where our current openings are located and see our available jobs.
Explore Job Locations